The 5 Qualities of Successful Staffing Firms
Last time updated: 3 August, 2023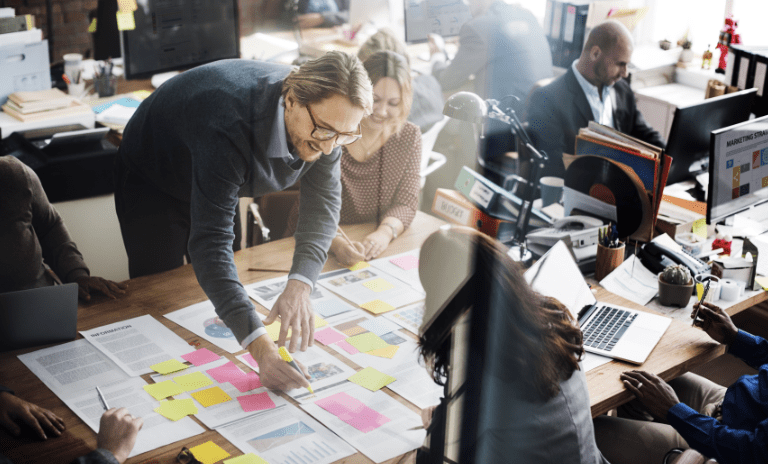 Last updated on August 3rd, 2023 at 06:36 pm
What is it that determines business success?
When it comes to staffing, it isn't any one thing that determines whether your firm succeeds, fails, or just gets by. It's a combination of many factors, some that you can control and others that you cannot, like the general state of the economy.
While there isn't a specific formula for massive success in staffing, there are certain qualities that successful firms share.
Advance Partners and Staffing Industry Analysts (SIA) recently conducted a joint webinar about five key qualities that determine staffing firm success. In this blog post, we will recap the key points from that webinar.
1) COMMITMENT
To succeed in staffing, you have to be committed to building your business – and it starts at the top.  The leadership team has to ask the most important question. Why?
Why are you in business? If it's to succeed and grow, you can't be half in. The simple reason that most staffing firms do not grow is that they don't want to. Success means sacrificing time with your family, or taking big risks like investing your own money in your business.
In the webinar, an example of commitment came from Delta Locum Tenens. The owner of Delta had recently bought back his own company, putting his personal finances at stake. He sat down with his team to discuss their future, and it was there that they all decided together to go all in on the business and were very successful in doing so.
2) DIRECTION
Even if you and your team are 100% committed, a rudderless firm will soon find themselves adrift in a sea of tight competition. That's why direction is the second key quality that most successful firms share in common.
The decisions you make about your firm from the outset are critically important when it comes to success. What customers will you serve? Will it be in a specific industry? In the webinar, Barry Asin, President of Staffing Industry Analysts, says to "never underestimate a good tailwind" – meaning, think about focusing your firm on already successful industries like healthcare, or IT.
A big part of a successful strategy is also to determine what you are not going to do. To succeed, it is critical to say no to business that does not align with your goals.
3) CULTURE
While there is no one answer to what your company culture should be, the most successful firms have pervasive cultures that are driven from the top, aligned with strategy, and consistent in all things big and small.
Culture is not just your mission statement. It's much more about how you create and motivate your team – who you fire, who you hire, and who you promote. Actions speak louder than words when it comes to embodying the culture you develop.
When your business is growing, you often have to transition from a personality driven firm to a value driven one. That means building people from within to become next generation leaders, so you have someone on deck ready to step up when you decide to open a new office.
4) TALENT DEVELOPMENT
Finding good people is critical in staffing, and that goes for both your internal team and your temps. Talent development goes beyond just hiring though. It includes  the training, development, and motivation of your recruiters and others in your company.
One of the most iconic examples of talent development is the Allegis Group, a $10 billion dollar company who consistently makes the list of fastest growing staffing firms. Allegis focuses on growing the next generation of leaders by hiring them right out of school, training them and inculcating them into the culture and the operating systems of the business. Allegis rarely looks to the outside for hiring, and its model has spawned several successful companies like Insight Global, Apex Systems, and more.
5) EXECUTION
Finally, we come to the last key discipline: execution. Some firms want to jump right to execution, but it's important to have the other disciplines in place first.
Execution is all about identifying essential practices, scaling key processes, and then replicating results over multiple organizations. Easy to say – and very hard to do.
Executing from a standard operating system and practices makes opening up new business units or training new leadership easier than "winging it." Successful staffing firms follow a playbook, and that makes it easier to grow.
WHERE TO START?
Success doesn't just happen; it's the result of hard work, planning, and commitment.
We sponsored this webinar because we believe in growth. Helping staffing firms grow is what makes us tick, and has for the past two decades. As we celebrate our 20th anniversary this year, we want to help as many staffing firms as possible achieve their goals.
If you are ready to start growing your business, we can help. Advance Partners clients grow five times the industry average and are some of the most successful staffing firms in the country, often making it on the SIA list of fastest growing US staffing firms. Contact us today to start the conversation.
Grow & manage
your staffing firm
with our full range of
back-office solutions.
Subscribe to the AP Resources Mailing List
Get notified about the latest AP blogs and resources on staffing topics