Payroll Funding For Startup Staffing & Recruitment Agencies
Starting out doesn't have to be a struggle. Advance Partners provides staffing startups with payroll funding, invoice factoring, strategic solutions and back office resources designed to drive growth.
Our staffing firm clients grow 5X the industry average.
Over two decades helping startups succeed.
So much working capital to provide, backed by the Power of Paychex, you'll never have to say "no" to an opportunity.
Our staffing firm clients grow 5X the industry average.
Over two decades helping startups succeed.
Our clients average 20% growth every year.
Secured by the strength & innovation of Paychex.
Payroll Financing & Funding Is Just the Start.
Startups need working capital to grow, but that's only the beginning. Advance Partners' back office and strategic advisory services will guide and advance you to the next level.
Explore our services here or schedule a free consultation.
"Advance Partners has been with us from the onset of our journey in Staffing. This back office powerhouse helps us focus on our core business and maintain compliance. Thanks Advance Partners!"
~ Paula Humber, P&L Corporate Solutions
Get a proven tool for identifying your staffing firm's strengths, opportunities, threats and weaknesses.
Build a detailed roadmap to growth and success with this proven template for business planning.
Input pricing data in real time to this calculator to determine if potential clients are good bets.
"One of the biggest reasons I chose Advance Partners was because of the people. They're professional, responsive and they specialize in staffing. Most importantly, they believed in me, and my company. They can see long term and know that my success impacts their success."
"Our sales are up 100% over last year. Advance Partners enables me to focus on what I do and do it better. I've been able to go out and meet with new clients and generate more revenue. Accounting is not my forte, I sell, so I'm able to do that without worrying. I'm still involved in accounting, but my primary focus is on sales and the growth of my firm. Advance Partners is outstanding."
"I don't have to hold my sales team back. They feel supported and they don't have to check with me to see if we're tight on cash. I love taking barriers out of people's way. We've exceeded all of last year's billings in the first 6 months of this year. We can confidently go after new clients, new candidates and any new staffing opportunity."
"We would have literally said 'no' to new business without the financial flexibility from Advance Partners. They afforded us the opportunity to say 'yes.' There was never another worry if we were going to make payroll."
"Knowing we can go after any business we want at any time is invaluable. We feel like we can not only compete with the big firms, but we can differentiate ourselves from the small firms. We can still offer a quality personalized service, with unlimited funding potential to go after large client requests."
SEE HOW WE HAVE HELPED OTHER STAFFING AGENCIES SUCCEED FINANCIALLY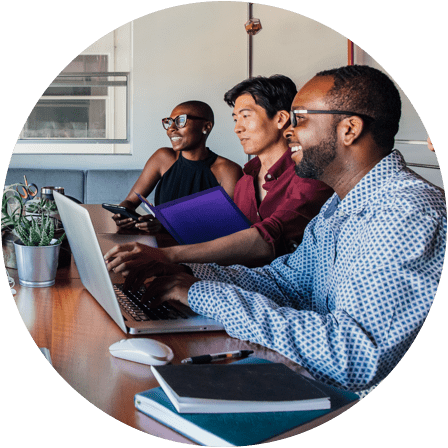 What does factoring cost?
Frequently Asked Questions
If you have good experience and the will to succeed, starting a staffing firm is a great idea. For a minimal technological investment, you can run a staffing agency almost anywhere. We have several resources on how to start and maintain a staffing firm that you might be interested in: