Staffing Firm Growth Q&A
Last time updated: 13 September, 2022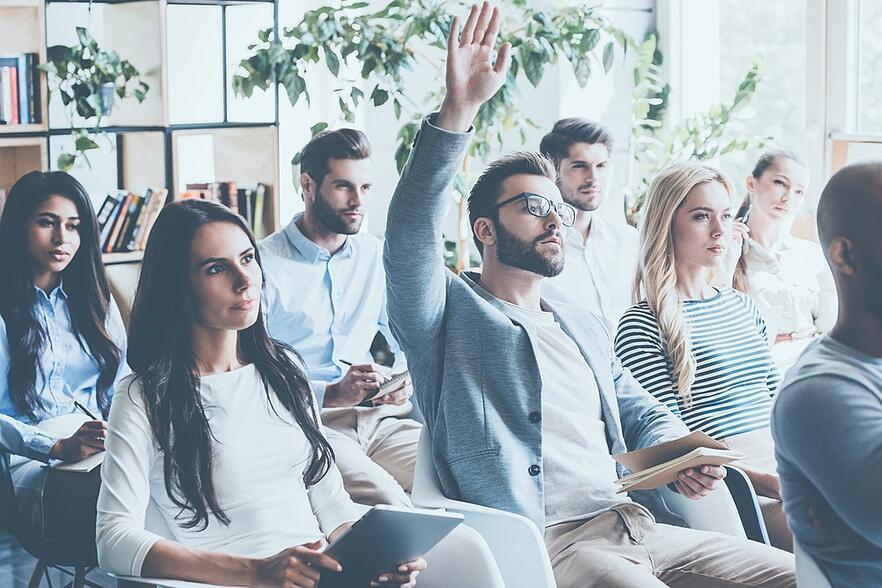 Last updated on September 13th, 2022 at 12:50 pm
Earlier this year, Staffing Industry Analysts and Advance Partners conducted a joint webinar on the five qualities that successful staffing firms share. In this webinar, Barry Asin, President of the Staffing Industry Analysts and Adam Stern, General Manager of Advance Partners, discussed each quality and provided real world examples of firms that exemplify each.  You can watch the webinar here, or we have a summary blog post here.
After the webinar ended, there were many questions from the audience. While Adam and Barry were able to answer a few in the time allotted, some went unanswered – until now! Below we provide answers to some outstanding questions about staffing firm growth, payroll funding for your staffing company, and more.
QUESTION 1: WHAT ARE THE REVENUE AMOUNTS ON THE PHASES OF GROWTH?
As Barry mentioned at the end of the webinar, there are no hard and fast revenue levels to define a phase of growth – it will vary based on industry and other factors. However, there is some SIA research to help put loose parameters on three levels of growth:
Revenue amounts vary, but, on average, staffing firms fall into these growth and revenue categories ($ MM):
Independent Operation

Start-Up Phase 1 = $0 to $2M
Start-Up Phase 2 = $2 to $5M
Organic Scale = $5 to $20M
Strategic Expansion = $20 to $50M +
QUESTION 2: I STARTED AN OFFICE 2 YEARS AGO, HOW DO I TAKE THE NEXT STEP AND OPEN A SECOND OFFICE?
Advance Partners has seen many clients expand to two or more offices. A key aspect that we have seen over the years is that staffing firms that successfully crossed that barrier have a key right hand person. That person does not necessarily have to run the office, it could be someone who runs with the ball on sales recruiting, HR, or any other aspect. If you can identify your #2 person, you can start to divide and conquer.
If you're opening in a new city, rather than finding a new person to fit that role, consider either 1) developing that position within your company or 2) having a new person work in the original office to learn the ropes and the company culture.
QUESTION 3: ARE THERE BOOKS OR PLACES TO GET HELP WITH STAFFING FIRM GROWTH?
As noted in the webinar, SIA President, Barry Asin has co-authored arguably the top read on what it takes to reach top levels in staffing. Look for his book, Breaking Through by year end. In the webinar he touched on a high level of what's in the book, and he'll also be talking about it at SIA in Miami too.
QUESTION 4: DOES A STAFFING FIRM HAVE TO BE A CERTAIN SIZE OR REVENUE TO SEEK OUTSIDE FUNDING?
No. Advance Partners is happy to work with small companies, or large ones with larger capital needs. We work with staffing firms from start-up to $100MM+ mature, multi-location companies.
QUESTION 5: CAN THE VIRTUAL OFFICE BE SUCCESSFUL RATHER THAN BRICK AND MORTAR?
The short answer is yes, although it depends on the industry. Certain types of staffing are more successful in a brick and mortar, like lower pay industrial staffing. In that case, it helps your business to be in a location where people can easily get to you via transportation.  On the other end of the spectrum in the white collar higher paid bucket, a virtual model can work.
QUESTION 6: THE MSP MODEL FOR STAFFING IS GETTING BIGGER AND BIGGER, BUT THEIR PAYMENT TERMS ARE PUSHED TO NET 90 IN MANY CASES. DO YOU SEE A TIPPING POINT FOR THIS MODEL? IF SO – WHAT'S NEXT?
The tipping point is when quality vendors start to refuse to work with a client over payment terms.  I do not think we are there yet.  If someone accepts the payment terms and can perform well, the buyer won't change.  We haven't seen massive defections – yet!
QUESTION 7:  IS THERE SOMEONE THAT CAN BE APPROACHED FOR ONE-ON-ONE MENTORSHIP?
Advance Partners provides one-on-one mentoring for all of our funding clients. The Client Support team helps clients with business development strategy, teaming opportunities, and supplier diversity certifications, just to name a few. If you are not yet with Advance as a funding client, there are many good independent consultants in the market, depending on where you want to focus.
QUESTION 8:  TYPICALLY, DO STAFFING FIRMS IN A PERFORMANCE DRIVEN CULTURE HAVE THEIR PEOPLE SELF-REPORT ACTIVITIES OR ARE REPORTS GENERATED VIA AN ATS?
It is preferable in this day and age to have ATS generated reports, including mobile options.  Millennials especially might balk at manual reporting if you have any other way to collect.  That said, manual reporting is still an option. A performance-driven culture catering to millennial tech solutions demands top ATS reporting.
QUESTION 9: HOW IMPORTANT IS IT TO HAVE SEPARATE BRANDS AND SALES STAFF FOR EACH DIFFERENT SERVICE OFFERINGS? FOR INSTANCE INDUSTRIAL STAFFING VS. RPO VS. CLERICAL STAFFING, EXECUTIVE SEARCH, ETC.
It depends.  I think you can provide commercial staffing without having a specialist, but in the professional staffing world, it is expected.  I believe it's critical in the Search arena to be branded separate and use separate in-house staff.  Also in regards to RPO, there are different levels of sophistication.  I know of general firms providing RPO services such as sourcing and appointment setting.  To do full end-to-end RPO and price it correctly take someone who has had exposure to that segment.
QUESTION 10: ARE THERE ANY OTHER WAYS YOU CAN THINK OF TO GET MORE PEOPLE IN THE DOOR?
Unfortunately, there is no magic bullet when it comes to recruiting. You should try to do some of everything. Social media sites like LinkedIn are important, as well as good search engine optimization for your site that makes it easy to find your business online. "Old school" recruiting tactics such as open houses and referral programs can also be helpful.  Some other ideas to try are mobile recruiting, or to interview for a day at a community center or vocational school.  There are many free sources for interviewing off site.
QUESTION 11: MY PROBLEM HAS NOT BEEN IN TAKING THE CULTURE TO THE NEW LOCATION, IT'S BEEN ABOUT KEEPING THE CULTURE THAT I CREATED IN THE OLD LOCATION. CAN YOU HELP?
Without knowing specifics, the problem may be that the culture is built around the personality of the owner/manager rather than coming from a place of performance and best practices. It might help to focus on making your staff feel successful by putting achievable goals in place and recognizing great contributions. All locations should feel a part of a common goal and a part of the team.
QUESTION 12: WHAT IS YOUR OPINION OF HAVING TEMPORARY AND PERMANENT PLACEMENT IN ONE FIRM, AND DO YOU SEE A CORRELATION OF FAST GROWING FIRMS HAVING BOTH?
The fastest growing firms tend to stay very focused and don't try to do everything.  Advance Partners believes the most successful companies have separate staff for Direct Hire and Temporary Staffing.
QUESTION 13: DOES PAYROLL FUNDING APPLY TO EMPLOYEES OF THE FIRM? MEANING CAN I HIRE/PAY A SALARY OF SOMEONE WHO ISN'T A NURSE OR THERAPIST? HOW DOES THIS WORK?
If you are referring to in-house staff, as part of our full service product Advance Partners does process and pay your internal staff, but we do not fund them.  You would need to give us the funds or take it out of your profit that same week.
QUESTION 14: IS FUNDING ONLY PAYROLL RELATED? WHAT IF A FIRM HAS ASPIRATIONS OF BUYING ANOTHER COMPANY. WILL YOU CONSIDER ACQUISITION FUNDING?
If you are a funding client of Advance Partners, we are sometimes able to support an acquisition.  We certainly advise on the merits of any contemplated deal, and offer expert advice on valuations.
QUESTION 15: WHAT ARE THE BEST WAYS TO FIND AND ATTRACT TOP TALENT CANDIDATES?
Answer: Our advice would be to use your network first to find great candidates. Warm calling is better than cold calling any day. Beyond that, you may want to explore other options like talent sourcing companies that are using big data and AI technology.
If you want to know more about Advance Partners, visit our website or request a free assessment today.
Subscribe to the AP Resources Mailing List
Get notified about the latest AP blogs and resources on staffing topics